W4 (2010)
Form Description: Be sure that your employer is withholding the right amount for taxes with Form W4 (the Employee's Withholding Allowance Certificate). Withhold too much and you make an interest-free loan to Uncle Sam all year; withhold too little and you could end up with a big tax-day bill. Use the W4 form to compute the right amount of withholding for your situation. This is the same Form W4 distributed through the IRS website, provided for your convenience here at Formville. You can input all of your information into the W4 tax form before printing.
Form Orientation: Portrait orientation
Copies: 1 copy per page
Here is a preview of the "W4 (2010)" form: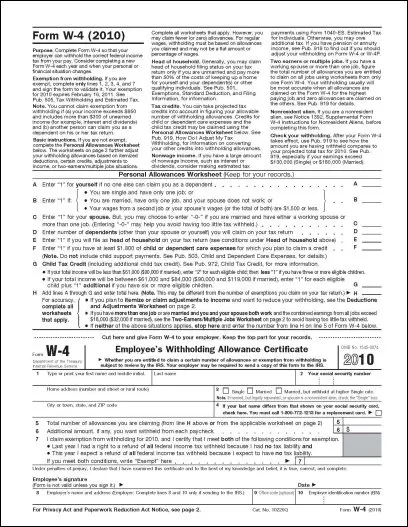 You can download a PDF version of the "W4 (2010)" form absolutely free. What would you like to do?
If you prefer, this form is also available directly from the official IRS site (US Government).
Formville's free "W4 (2010)" form is associated with the following keywords: tax form, w4, w-4, irs.