Damage or Loss Report
Form Description: This Damage or Loss Report has been designed to help companies keep track of any incident that may occur which causes their company harm. Useful for keeping track of legal incidents, and accidents, this form can be extremely helpful and allows you to consolidate much of the information that may be required by an attorney or insurance representative. This particular version of the form is designed to be filled out by one person, and then verified by another as a redundant safety measure.
Form Orientation: Portrait orientation
Copies: 1 copy per page
Here is a preview of the "Damage or Loss Report" form: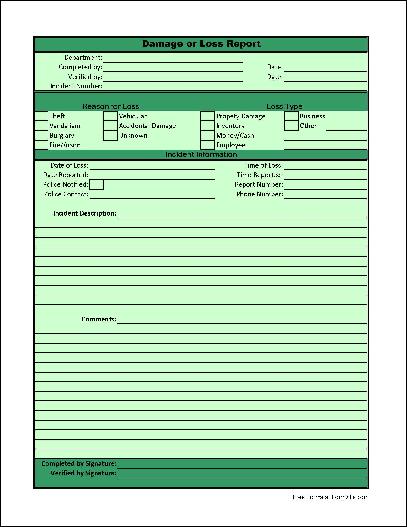 You can download a PDF version of the "Damage or Loss Report" form absolutely free. You can also, for a small payment, download a fully editable version of the form that you can customize as you desire. (Don't know which format to choose? Here's how to make your choice.) What would you like to do?
Download FREE Form
Download Excel Version
Download Mobile Version
Get a version
of this form for
your mobile device

Formville's free "Damage or Loss Report" form is associated with the following keywords: insurance, damage, loss, report.
If you choose to download the Excel version of the form, you may want to learn more about how to use Excel. You can find lots of great information about how to use Excel at the ExcelTips website.